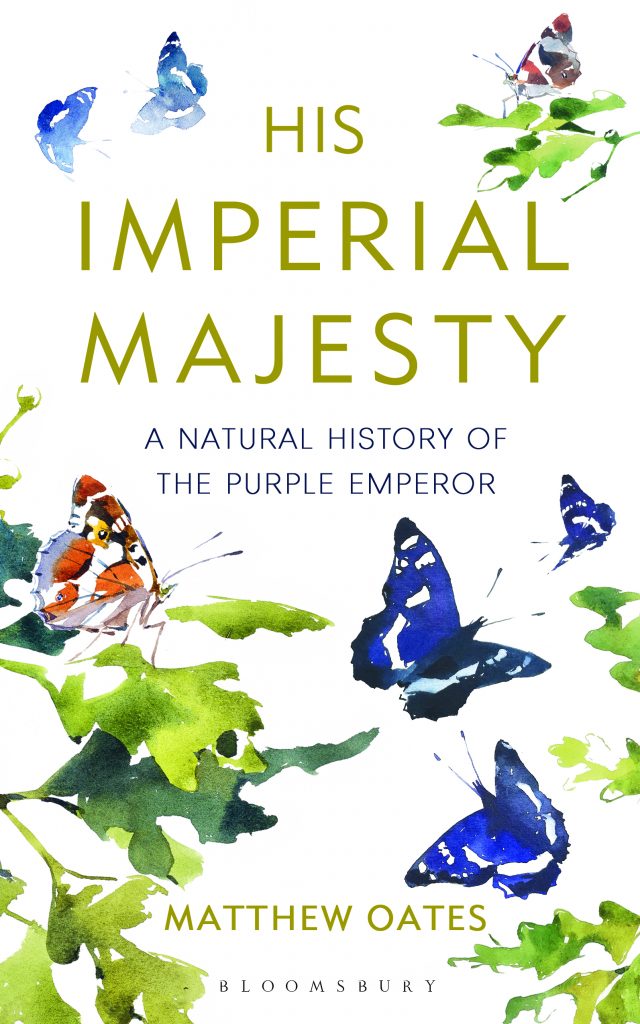 Early draft of the cover design…
Launch date: June 11th 2020.
Publisher: Bloomsbury.
This book is as it states, simply a natural history.  It is not a definitive account of the ecology of this elusive and almost-impossible-to-study insect, but will hopefully be the launching pad for work to reach such an understanding. 
It's aims are to inspire and enable people to go out and study, record and fully appreciate this the best of all possible butterflies. The book's message is that this is not a rare insect, and probably never was, only we have been rubbish at looking for it, and confused mythology with knowedge. The Purple Emperor could and should be widespread and locally numerous in many rural and suburban landscapes. This is a Good News species!
It is in places an extremely silly book, because this is at times an extremely silly butterfly…  (natural history and, especially, ecology and conservation are so DRY and humourless these days…). The Purple Emperor has inspired some of the most eccentric behaviour in our history.
The book is partly a personal narrative journey and partly a handbook – there are two How to… chapters and a lengthy appendix of county histories and current status. There's a lot of hypothesising, for example on the impacts of climate change, but some good science. In particular, I think I've decoded adult behaviour well. Also, I've studied the immature stages in the wild for over ten long years, though the late-stage larvae and pupae are extremely hard to study. Hopefully I've paved the way for some decent scientific research on this species.
The title comes from one of the many epithets given to this insect by the Victorian butterfly collectors.
CONTENTS
Foreword by Isabella Tree
Adrift on the wind (introduction)
Chapter 1 A Glorious History The hunting gene – The meaning in a name – The pursuit of iris in Victorian and Edwardian times – baiting and the high net – W H Hudson, a voice against collecting – The legacy in literature and art
Chapter 2 The Modern Era I R P Heslop and Notes & Views of the Purple Emperor – the two Fs: forestry and farming – Denys Watkins-Pitchford ('BB'), breeding and releasing – ecological studies at Bookham Common – a method for surveying for Purple Emperors – modern communications: website development – media interest and The Emperor's Breakfast – Fermyn Woods: BB's dream fulfilled – Knepp Wildlands: paradise regained – Introduced populations – Butterflies and the law.
Chapter 3 The Purple Empire Status and distribution: historic and current overviews, distribution maps – Assessment.
Chapter 4 Introduction to the Adult Stage General considerations – Beauty and the Emperor's wings – Aberrations or colour variants – Emerging from pupae – How long Purple Emperors live – Mobility and dispersal – Timing of the flight season – Late records – A second brood? – Levels of abundance – Mortality
Chapter 5 Beauty as a Weapon, the Male Purple Emperor Male ego – Times of flight, including weather factors, evening flight and roosting behaviour – Night flight – Young males – Feeding and tongue cleaning – Fox scat and worse, and house invasion – Shrimp paste, bananas and human sweat – Tree sap and 'Feeder Trees' – Honey dew – Nectar and herbaceous plant sap – Local diet preferences – Sallow searching and oak edging – Male aggression – Clash and chase – Changing and maintaining territories – Interaction with other winged insects and with birds – Why? – A cautionary tale – 'Master Trees', 'Cluster-territories', canopy gaps, hill topping, daily migrations and a summary.
Chapter 6 The Empress, a Life Apart Feminine issues – Telling females from males – Times of flight and activity – Avoiding males – Maiden flight – Courtship and mating – Rejection drop tumbledowns – The Complexities of egg laying.
Chapter 7 How to look for Purple Emperors Constant vigilance, or watch the birds! – Information sources – Leeward! – Looking for sallow-searching males – Grounded males – Canopy gaps and wooded high points – Feeder trees – Recording and monitoring – Access issues.
Chapter 8 Habitats and Breeding Grounds A denizen of oak woods? – The clay lands – Young plantations: broad-leaved and conifer; sallow clearances; wood pasture – Hedges, roadsides and copses – New age breeding grounds – Among the river sallows… – Scrublands – Parks and gardens.
Chapter 9 Sallow Identification and Usage, a Veritable Nightmare Egg laying résumé – Sallow taxonomy and identification – Breeding site selection: a study in Savernake Forest – Leaf thickness, shade, foliage development and tree age – Some conclusions.
Chapter 10 Eggs and Late Summer Larvae The egg stage – Vulnerable first instar larvae – Second instar larvae – Third instar larvae – The 'egg lay': fluctuations in the number of eggs and early autumn larvae in Savernake Forest over an eleven-year period.
Chapter 11 Hibernation and the Winter Months Introduction to hibernation – Colouring up – Journeying into hibernation – Buds, forks, scars and lesions – Predation by tits, and winter survival – Predation, movement and survival –
Chapter 12 Spring Larvae and the Pupal Stage Caterpillar ambition – The departure lounge – Fourth instar larvae – The glory of final instar larvae – Parasites, poxes and diseases – The mysteries of pupation.
Chapter 13 Adventures with Remarkable Caterpillars The Soul of Adonais – Number 198 – The Empress of Knepp – 'Alastair Cook' – The Other Side of the Coin.
Chapter 14 How to Look for Purple Emperor Eggs and Larvae Eggs and late summer & autumn larvae – Leaf colour and larval feeding marks – Alpha trees – Spring & early summer larvae – Ad absurdum.
Chapter 15 The Purple Land that England Gained (The 2018 Purple Emperor season at Knepp Wildlands). Initial stirrings – Peak season – Safari time – The switch – Until the sun breaks down.
Chapter 16 Conservation Issues Questionings – A wind through the willows – The sallow's fall from grace – Conservation evidence base – Conservation systems – Habitat management: pollarding, coppicing, propagating sallows – Deer and squirrels – Scientific research priorities.
Chapter 17 The Future Mobility and new dynamics – Town and country – Climate change and the move north – War against scrub – Pests, poxes and diseases – Purple Haze
Glossary of Terms
References and Further Reading
Appendix The History and Current Status of the Purple Emperor, by Region and County. These county summaries comprise about 25% of the book.