2014 had the chance to build on the greatness that developed during 2013.  It got off to the worst possible start, with a westerly gale on New Year's Day which fooled us into thinking that the year was going to get its worst over early.
Things worsened steadily, with a run of exploding depressions, gales, sou'westers, northwesters, attempted hurricanes and what the weather people now call weather bombs.  They were lining up in sequence, one after the other, rampaging over southern England.  The Somerset Levels received most media attention, simply because a TV camera could easily obtain spectacular footage of vast acreages of flooded fields from the top of Burrow Mump (a bump in the Levels owned by the National Trust), and pan in on 40-odd flooded homes.  The fact that more homes were flooded in Basingstoke that on the Levels was never mentioned.  The extent of house flooding in the lower Thames Valley was also scantily passed over.  This was the winter of the Somerset Levels floods, not least because a weather station there recorded 230mm of rain there between December 13th and January 12th.
The storms were awesome.  Aberystwyth sea front got pulverised, a sea arch collapsed at Porthcowan in Cornwall, a stack disappeared off Portland, and the pepper pot off Shippards Point in Glanville Fritillary country on the Isle of Wight coast vanished without trace.  Chesil Beach was overtopped and flattened.  January was the wettest on record for England and Wales, and mild and windy too.  February worsened things, with a vicious gale on the 5th and another on the 12th.  The most serious gale, though, occurred on Valentine's Day.  This washed away a section of the West Country railway line at Dawlish on the South Devon coast, cutting off rail links with Plymouth and Cornwall.  At that point some 6000 homes were flooded.  The final gale occurred at the end of February, but by then there was little left to damage.  I was in Aberdaron on the Llyn peninsula, deep in the heart of RS Thomas country – and most of the tombstones in the cliff-side graveyard there had been blown over (Thomas would have loved it – ditto Dyan, ditto Edward – so all three Thomases would have loved it).  It was obvious that 2014 was not going to be a nice year.
I had located and marked out 63 hibernating Purple Emperor larvae in Savernake Forest, in deepest Wiltshire.  That proved far too ambitious a sample, especially when some of my markers were blown away in the gales.  Worse, the winter proved too mild for full hibernation, so that at least a quarter of the larvae woke up and moved position, wandering as far as 2m.  Prior to the 2013-14 winter I had recorded only three larvae wake up and move position in four winters.  This time, they woke up and went walkabout big time.  Worst of all, they were so numerous that the titmice got their beady eye in on them, and plundered them mercilessly.  By the end of the winter only 17 larvae remained, and I wanted every tit in Britain shot.
Rant.  Ban grouse and pheasant shooting, replace with tit shooting, using dust shot. Have crack squads of tanked-up toffs patrolling every Purple Emperor wood in winter, blasting out tit flocks and tit nest boxes.  Etc.
The gales felled several of Savernake's giant beeches, and also some of its veteran sallows.  That provided opportunities to search for Purple Emperor larvae on windblown sallows.  Incredibly, they do not fall off, even when hibernating 15m up on a sallow which was vertical one moment and horizontal the next.  This was also demonstrated when the Forestry Commission bulldozed one tall sallow away – the caterpillar I was following on it, some 5m up, carried out regardless – only to be eaten by a ravenous tit in March.
In the midst of all this mayhem, the first butterfly of the year appeared – a Comma, basking in an oak-lined glade whilst I was searching for White Admiral larvae in the Straits Inclosure of Alice Holt Forest in mid-February.  Oddly, this was only the third time I'd opened the butterfly season with a Comma, after 1975 and 1987.  Commas are not early risers from hibernation.
Other caterpillars inhabit the garden, as TS Eliot might have written.  In mid-March I enjoyed a magical hour and a bit searching for Heath Fritillary larvae in one of the combes radiating off Dunkery Beacon on Exmoor.  They were just out of hibernation, basking on dead Bracken fronds as the day warmed up, before retreating when the sun became too hot.  Their main problem was that their foodplant was scarcely showing – this is the only British butterfly to breed on an annual plant, Common Cow-wheat, the seeds of which begins to germinate in mid-March.  I returned to the spot in mid-May and found that they'd eaten out that cow-wheat patch, but a posse of them had wandered 6m downslope to a fresh patch, and were well into their final instar.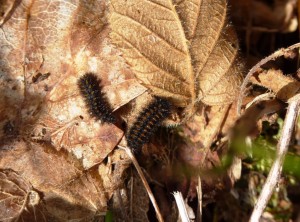 Tiny Heath Fritillary larvae basking in mid-March sunshine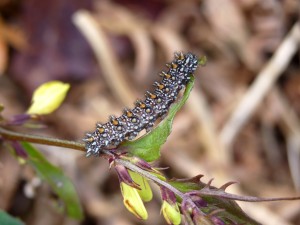 Full grown larva feeding on Common Cow-wheat, Halse Combe, 15th May 2014
March and April were good, though the jet stream jumped south at the end of April, trashing a most promising spring.  This time belonged to the Green Hairstreak, which emerged in excellent numbers on the steep slopes of Rodborough Common in the Costa del Cotswolds.  I saw the first there on March 30th.  This was the third time I'd recorded Green Hairstreak there in March, and was actually the first recorded anywhere in 2014.  Curiously, the Cotswolds specialises in early Green Hairstreaks, though it does not have a reputation from producing early appearances of other spring butterflies – just Green Hairstreaks, and later on, Large Skippers and Marbled Whites.  On Rodborough, males perch on the low Holm Oak bushes that litter the lower slopes, and behave despicably – invading each other's bushes and moving on from bush to bush, causing chaos.  You can sex Green Hairstreaks purely on behaviour, long before the female you were watching lays an egg in front of your eyes.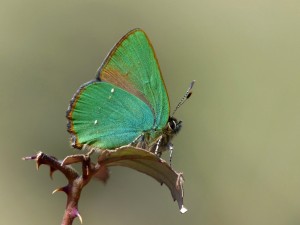 Vicious little thug, a Rodborough male Green Hairstreak
May was mixed, very mixed, and typical of modern Mays.  A really good week mid-month redeemed it, and enabled the Duke of Burgundy to flourish briefly but soundly, and the Pearl-bordered Fritillaries to do their thing.  Then, yet again, the last week of May – one of the key weeks of the butterfly season – was Vile, and I mean Vile.  I got fed up and journeyed up north, dumping the grotty weather in a layby on the Lancashire – Yorkshire border.  There it could be endlessly squabbled over by rival local groups, who habitually lob black puddings and Yorkshire puddings at each other – something like that.
I visited a madly atypical Duke of Burgundy site on the fells above Newby Bridge in south Cumbria, with Martin Wain of Butterfly Conservation.   This is a unique Duke of Burgundy site, 200m up on the edge of an acidic mire bordered by bracken.  The butterfly is breeding on primrose patches amongst Purple Moor Grass along the edge of base-rich flushes bordered by dense bracken stands.  The primroses are in a remarkably stable habitat, in a narrow belt between the mire edge and bracken, alongside Devil's Bit Scabious and Marsh Violet.  The site has not been grazed for decades – though the estate torched the bracken and rank heather in March 2012 to control heather beetle.  Mercifully, the crucial mire edges didn't burn, or the butterfly might have been lost.  By Burgundy standards this is a remarkably stable habitat.  Neither the bracken nor the Purple Moor Grass can pose any real threat to the butterfly and its primulas, because primulas are occurring in a narrow linear zone too wet for bracken.  The site is surprisingly well sheltered, with good topographical and woodland edge shelter, though with a westerly aspect.  The population was only discovered, by accident, in 2010 or 2009.  What a find, which begs the question of what else awaits our discovery in far-flung places?
It is not the sort of terrain one would search for butterflies, let alone one as fastidious as the Duke of Burgundy.  The population is a terribly isolated remnant.  Imagine this: upland Burgundies, the last vestiges of a hardy upland northern race.
Diary, Sunday June 1st –  Off to a flyer: A pleasant early summer day, with long periods of full sun or very bright conditions and never dull.  23C.  L W.                                       Meathop Moss, Witherslack.  S Cumbria.  9.30-10.30   The place called me in, though I knew it was at least a week too early for Large Heath, as the butterfly season is by no means early up here.  Instead, numerous Common Heath moths were doing almost exactly the same thing – bumbling ceaselessly and aimlessly over the bog, suddenly landing for no apparent reason other than randomness.  They were most endearing, a promise of things to come – the Large Heath season.  I need to return, though the spirit of the place has been diminished by the roar of traffic (even early on a Sunday) from the nearby A590, now that the protecting fringe of dense scots pines along the reserve's northern edge has been all but removed in the name of nature conservation.
The only butterfly I saw here was an old Green Hairstreak, indicating that my visit took place in the gap between the Green Hairstreak and the Large Heath seasons, the former having been blasted away by poor weather.
There were no butterflies in the meadow leading to the reserve, from the east.  The Wildlife Trust has recently created large scrapes here, so it's no longer a butterfly meadow.  This is the fourth incarnation of this meadow I've known: buttercup meadow, improved silage field, buttercup meadow mark 2, and now birdy scrapes.
Tree Pipit of the Year 2014 was awarded to the male singing from a retained dead pine near the start of the boardwalk, and I managed to eat an early cranberry.  Meathop, I love you, you're out of sight.
On the way home I called in at Warton Crag, a largely wooded limestone crag system above the uniform greyness that is Carnforth.  There I saw the first Northern Brown Argus of the year, three of them, males, squabbling over the possession of a flowery dell.  These proved to be the first recorded in the UK that year, and were incongruously recorded by a wandering entomologist from the south.
Back in Savernake Forest, in early June, I had a meeting with a remarkable caterpillar (as in Meetings With Remarkable Caterpillars, an uncommissioned though staggeringly fascinating TV series) – Purple Emperor of course.  Caterpillar No 198 had first been found on November 10th 2013, about to enter hibernation.  He then thought about hibernating in a small branch fork over half a metre away, but soon moved further up-branch to hibernate on the underside of a fork.  He came out of hibernation at the end of March, and started to feed up on terminal leaf sprays some 4m away.  By June 3rd he was fully grown (and revealed himself to be a he, for I can sex full-grown Purple Emperor larvae), and was wandering off to pupate.  I watched him for over an hour, during which time he covered 13m of the branch system of an ancient sallow, including assorted U-turns and meanderings.  He was heading up-tree.  After rejecting the undersides of half a dozen leaves, he eventually decided on the underside of the seventh leaf, some 5m up.  That's it, I thought, he's going to pupate there – and left him to it, for it was then 9pm.  I never saw the blighter again, and strongly suspect that he continued his journey onward and upward the following day.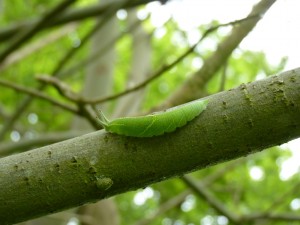 June steadied the ship.  White-letter Hairstreaks appeared mid-month – I saw one wandering through the National Trust gardens at Hardwick Hall in Derbyshire on the 12th.  That weekend the Norfolk Broads proved alive with batches of Peacock larvae – I counted 120 webs in the 65 minutes it took me to walk along the mile long track that skirts Butterfly Conservation's ecstatically wonderful reserve at Catfield Fen.  The Peacock would take over the Broads come late July.  A black Labrador adopted me and escorted me along the track towards the River Ant, then left me alone with a posse of wild and dangerous Swallowtail males – not another fool after blooming Swallowtails, he must have thought.  I loved that dog.  Catfield leapt to greet me, but the Swallowtail did not: I think I've become too Purple for this mighty and haughty butterfly.
It was apparent that June was going to provide the most memorable experiences of the butterflying year.  It did so in Heddon Valley on the North Devon coast, a piece of Eden which didn't fall from grace when Satan tempted Eve to eat of the forbidden fruit.  The steep Bracken slopes that punctuate this Sessile Oak woodland valley support one of the best High Brown Fritillary populations in the countries (England and Wales that is – Scotland and Northern Ireland lack this particular jewel), and the only known surviving population on Exmoor.  Most of the High Brown slopes there have resonant names like Kittitoe, Rhydda Bank and Trentishoe combe.  There is power here, deep almost Pagan power, and a torrent stream, complete with Dippers, rampaging along the bottom, desperate to escape out to sea in the rocky cover of Heddons Mouth.
On Tuesday June 17th I counted 123 High Brown Fritillary in four sites in the valley, and an extra 46 at three smaller sub-sites the following afternoon; each one of them pristine and eternal.  The top spot recorded an impressive 60 in 20 minutes (plus 14 Dark-green Fritillaries and six indeterminates which could have been either species).  By modern High Brown standards that is massive (and by the standards of High Brown recording a wonderfully small error bar).  I returned there in the evening, to watch them feeding up on bramble and Marsh Thistle flowers prior to going up into the oaks to roost.  There were even more on display, though one by one they ascended into the high oak sprays to roost.  The valley was chanting at me, football supporter style: "Beat that, Purple Emperor, if you can…".  He couldn't.  Never mind the Liverpool Kop, this was the Heddon Kop in full voice – only it was entirely in my head.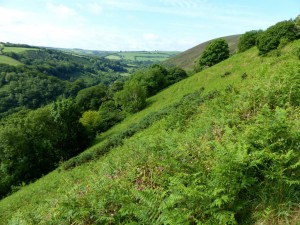 That evening the text came through: the first Purple Emperors of the year had been seen by Rob Hill at Bookham Common in Surrey, battling away amongst themselves and even chasing off a Sparrowhawk.  This was the butterfly's second earliest appearance since the long hot summer of 1893, after 13th June 2011.
But the Emperor flattered to deceive in a summer which belonged to the golden High Brown Fritillary.  These two butterflies used to roost together in the oak crowns in the good old days when the High Brown was a common butterfly in woodland in south east and central southern England.  Doubtless they squabbled about it, though, but spiritually they are cousins.  I have never seen them flying together, and never will in the UK.
Emperor numbers were way down almost everywhere, with the exception of the mighty Fermyn Woods up in Northamptonshire, where I managed to count 90 apparent individuals during a nine hour non-stop day there at the start of July.  I also counted 42 in two heady hours whilst showing a group from the BB Society round the main Fermyn Wood block.  That was seriously good going, and we all felt the great man (Denys Watkins-Pitchford, alias the naturalist writer and Emperorphile 'BB') was with us.  Of course he was.  And we weren't celebrating his life, we were living it.
But the Emperor's magic was moving south, to Knepp Castle Estate in West Sussex, where the population was building impressively under the owner's visionary re-wilding programme, as sallow thickets sprung up riotously over land recently taken out of intensive agricultural production.  Soon, very soon, Fermyn and Knepp would battle for the position of being Britain's premier Purple Emperor site.  But elsewhere, Emperor numbers were way, way down – perhaps because of excessive tit predation during the preceding autumn and winter?
After a modest Emperor season the High Brown reasserted his grip as butterfly of the year, first on the Morecambe Bay limestone hills at the start of August, and then at the end of the butterfly season when I was blown away by the extent and quality of habitat of the High Brown's Bracken slopes in the Alun valley, just to the south east of glorious Bridgend in the Land of Song.  I visited in mid-October, after giving a talk to the local Butterfly Conservation branch, and knew straight away that I was in one of the very best High Brown sites I have ever visited, not least because of the excellent habitat management work conducted there by BC South Wales branch.   There is magic, if not exactly in Bridgend, then close by.   It is unusual for official butterfly monitoring to agree with my highly personal Butterfly of the Year award, but in 2014 my experience tallied with Butterfly Conservation's scientific assessment, for once.  My criterion is simple, Butterfly of the Year goes to the species by which the year will best be remembered.  Daft, certainly, but it's been running since 1967 and I'm not going to give up now, and we all collect memories, avidly – and summer provides them, massively.
August was poor – wet, cool and windy, with just a scatter of decent days.  A classic autumn depression came over on the 10th – the tail-end of something vile called Hurricane Bertha.  That produced a lot of rain and seven very windy days, which blew away the butterflies, even in the gardens.  It started all too promisingly, with a trip up north, to the Yorkshire Dales and the Morecambe Bay limestone hills. The Dales were visited primarily to experience the limestone hay meadows at Yockenthwaite in Upper Wharfedale, upstream of Hubberholme.  Botanically, these meadows are near-perfect, complete with steep banks which cannot be mown and are only lightly grazed.  They look perfect for warmth-loving insects such as butterflies, bees and grasshoppers, but at 250m above sea level in the sprightly realm of Yorkshire the climate is too cool for much insect life, even on a wonderfully warm day.  The difference in insect life between those meadows 250m up and others lower down the valley around Grassington, 180m up, was stunning – the latter was rocking with insects, including sizeable colonies of Small Skipper and Ringlet, newcomers in Wharfedale, and some stray Scotch Argus which had doubtless been bred and released there by some lost misguided but well-meaning soul.  The distinctive dark race of the Scotch Argus which occurred around Grassington died out around 1955, probably due to an increase in sheep grazing.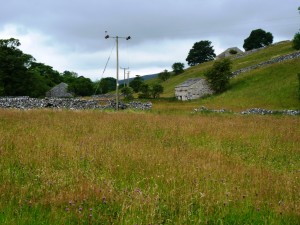 Yockenthwaite Meadows
But if our climate warms, butterflies may well move swiftly into the Yockenthwaite meadows, and those around awesome Malham, and bring them joyously to full life – if it warms, without become too wet… .  The future of some of our southern limestone grassland butterflies may well lie up here – so perhaps the well-intentioned souls who have been clandestinely releasing Scotch Argus around Grassington are actually releasing the wrong species… .
My birthday (August 7th) was spent in a near-crisis meeting on Arnside Knott, where the tenant farmer's cattle had been grazing the Blue Moor Grass sward rather too zealously for the Scotch Argus, whose population had declined alarmingly.  We sorted it, folks, and very soon the Knott should be once more alive with Scotch Arguses on early August days.  Butterfly populations often bounce back spectacularly after spells of so-called 'over-grazing'.  If not, get on to me – I'll kill for this place.
In late August the Isle of Wight called.  Bee-eaters were nesting in a sandy bank on National Trust land near Niton at the Island's southern tip.  And not just one pair either, but two.  They successfully raised eight young, to the delight of numerous naturalists who were guided to a viewing spot by National Trust and RSPB staff.  This was the most successful breeding attempt by Bee-eaters in the UK, and perhaps a sign of things to come, if our climate actually warms – if… .  It was too much for me: I instantly declared the Bee-eater an Honorary Butterfly – we could do with an insectivorous butterfly as the Purple Emperor isn't quite violent enough, it doesn't kill anything.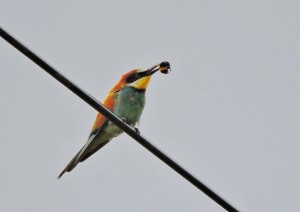 The summer was becoming silly, and had to end.  It ended on Guernsey and Herm in the Channel Islands at the end of August, where two species of butterfly stood out brazenly – the Holly Blue and the Speckled Wood.  Both were remarkably numerous, even along Bracken cliff slopes away from any scrub or woodland.  The Speckled Woods were deeply orange spotted, like their Scilly Island cousins.  The Holly Blues were even more remarkable on Herm.  There was plenty of Ivy for the late summer brood to breed on, but a near-total absence of any of the flowering shrubs used by the spring brood – no Holly, little Euopean Gorse, and very little Holm Oak and Pittospermum.  What is the spring brood breeding on here?  Answers, please, on this website… .
Of course, once August ended the weather improved.  September was the driest on record for the UK as a whole, beating that of 1959 (apparently).  But, sadly, it followed the 8th wettest August.  October was mild but wet, though it ended strongly – the October half-term week was warmer and sunnier than the summer half-term week back in May.  That summed 2014 up rather aptly.
Of course, I could have written this account three times over, mentioning different species and different places.  Such is butterflying.