The website of a lover of our butterflies, especially the mighty Purple Emperor, and of forests, downs, coast and countryside, wilder places, gardens, spring and summer, sunshine, and the poetic approach to Nature;
Also, 'new nature writing', rootedness, our relationships with places and how places use us, spirit of place, 'rewilding', cricket (Somerset & England), domesticated cats (3), and the roles of faith and spirituality in our relationship with Nature.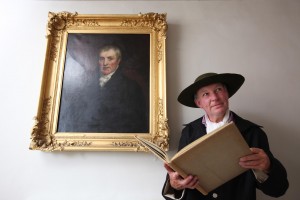 Me, as Samuel Taylor Coleridge.  
Photo  National Trust
That all sounds Serious, but cheerfulness keeps breaking through.
This spring I will be retiring – from the best job in the world (a job is what you make it): I worked for the National Trust for 27 years, as Advisor on Nature Conservation and then National Specialist on Nature  – whatever that means. I had a fantastic time.
I'm retiring to rather than from. I plan to write, dream and muse. My best hours lie ahead.
I have done a bit of broadcasting, on TV and radio, including Countryfile, The One Show and Springwatch. 
Spiritually, I may be found where Christianity and pantheism coalesce.  My church, which is radical and green, hasn't been founded yet, and I'm not going to found it either.
I write books (most recently, Beyond Spring, Fair Acre Press, 2017, and In Pursuit of Butterflies, Bloomsbury, 2015), poetry (Brokenborough Poetry Group, Wiltshire), for The Times Nature Notebook column and a Cotswold parish magazine, book reviews and articles – I find writing therapeutic. I write what I want to read myself, and which no one else seems to be writing… I don't (and couldn't) write for a living.
In Pursuit of Butterflies is continuing as an interrupted blog.  New chapters will be posted here periodically.  New chapters for 2014 & 2015 are already up. I'm behind with this venture…
I am not a blogger.   Occasional diary entries from my wildlife diary will be posted on the Diary pages, and occasional thoughts on the Thoughts pages here.  The Thoughts pages are particularly interactive – please join in.
The Photos here are my own unless otherwise stated.  They are all compressed, but feel free to use them for non-commercial activities. Full size versions of many are available through National Trust Images at www.nationaltrustimages.org.uk
Follow me on Twitter.  I tweet, regularly, as @NTMatthewOates
Postings about my lifelong interest and research into the Purple Emperor butterfly are on the Purple Empire website, primarily on the blog: http://apaturairis.blogspot.co.uk/
   Me, during the long hot summer of 1976, with hair…